19.7" Crinoid (Scyphocrinites) Plate - Boutschrafin, Morocco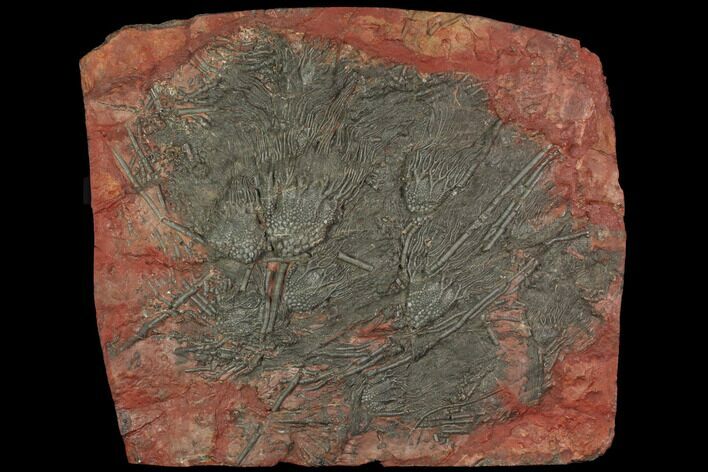 This is a beautifully detailed, Silurian crinoid (Scyphocrinites elegans) plate from Boutschrafin, Erfoud, Morocco. There are at least eight crinoid crowns overlapping each other in the cluster.
As with basically all crinoid specimens from this locality the rock is heavily repaired, as they come out of the ground in many pieces. The entire piece measures 19.7 by 16.8" and weighs about 22 lbs.
It comes with a metal displays stand or we can install a backing and wall hanger for an additional fee.
The Scyphocrinites crinoids are quarried around Erfoud, Morocco by digging straight down 16 feet until the layer is reached. Once the crinoid horizon is located a tunnel is dug along it by hand. The rock, dirt and crinoid slabs must then be hauled to the surface in baskets where they are reassembled and prepared. So it is a very labor intensive process to bring a beautiful crinoid plate like this one to market.

#{crinoids}
SPECIES
Scyphocrinites elegans
LOCATION
Boutschrafin, Erfoud, Morocco
SIZE
Plate 19.7x16.8", 22 pounds