34" Silurian Fossil Crinoid (Scyphocrinites) Plate - Morocco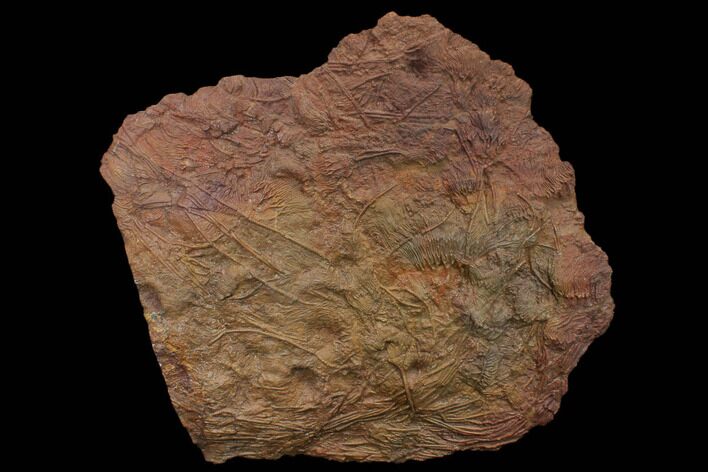 Due to the size and weight of this piece it will be shipped on a pallet or in a crate via freight. Our website can't automatically calculate freight shipping costs so these costs will be calculated and billed after purchase. Please contact us prior to purchase if you need a shipping quote.
This is plate of Silurian-aged Scyphocrinites elegans crinoids from Boutschrafin, Erfoud, Morocco. There are at least ten crinoid crowns overlapping each other in the cluster and the entire rock measures 34 x 33.3". As with basically all the crinoids from this locality the rock has been repaired with some gap fills as these crinoid tend to come out of the ground in many pieces.
The Scyphocrinites crinoids are quarried around Erfoud, Morocco by digging straight down 16 feet until the layer is reached. Once the crinoid horizon is located a tunnel is dug along it by hand. The rock, dirt and crinoid slabs must then be hauled to the surface in baskets where they are reassembled and prepared. So it is a very labor intensive process to bring a beautiful crinoid plate like this one to market.

Crinoids, sometimes commonly referred to as sea lilies, are animals, not plants. They are echinoderms related to starfish, sea urchins, and brittle stars. Many crinoid traits are like other members of their phylum; such traits include tube feet, radial symmetry, a water vascular system, and appendages in multiples of five (pentameral). They first appeared in the Ordovician (488 million years ago) and some species are still alive today.
SPECIES
Scyphocrinites elegans
LOCATION
Boutschrafin, Erfoud, Morocco
SIZE
Rock 34 x 33.3". Weighs 74 lbs