38" Plate Of Huge Trilobites (Dikelokephalina & Platypeltoides)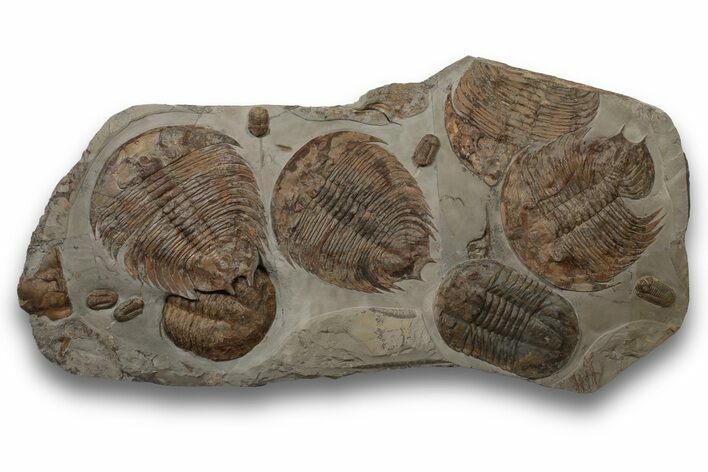 This is an impressive, trilobite display piece from the Fezouata Formation of Morocco. This 38 x 20" slab is covered in giant Ordovician trilobites of three different species. There are four Dikelokephalina brenchleyi with the largest one measuring 10.5" long, a huge Platypeltoides magrebiensis and five Symphysurus. The shell quality and preparation on this piece is fantastic.
There is very little restoration on the trilobites themselves, though the plate might be a composite of two different plates. there is a repaired crack on the right side of the plate with where the color of the shale changes slightly. Its hard to see unless you are looking for it. Never-less it is a truly breathtaking piece. We can add a backing an wall mounting hardware upon request.
Due to the size and weight of this piece it will be shipped on a pallet or in a crate via freight. Our website can't automatically calculate freight shipping costs so these costs will be calculated and billed after purchase. Please contact us prior to purchase if you need a shipping quote.
SPECIES
Dikelokephalina brenchleyi & Platypeltoides magrebiensis
LOCATION
Ouled Slimane, Zagora Area, Morocco
SIZE
Plate 38 x 20", Largest trilobite 10.5"