Awesome Triple Trilobite Plate - Mrakibina & Podoliproetus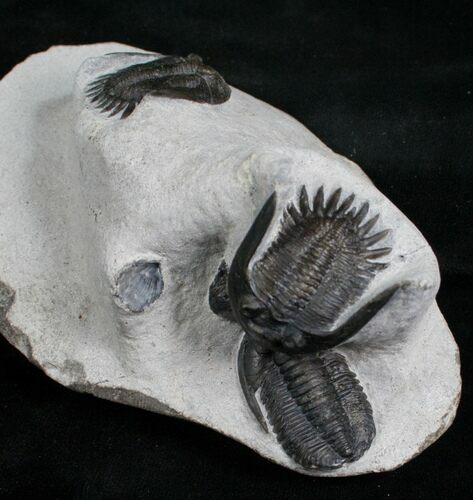 This is a spectacular trilobite multiple from the Lower Devonian deposits near Mrakib, Morocco. There are a pair of Mrakibina cattoi trilobites with their distinctive long genal spines and an undescribed Proetid trilobite, probably of the genus Podoliproetus.

It is a very displayable piece and the trilobites have great preparation and surface detail including the eye facets. There has been about 5% restoration on one Mrakibina, 10% on the other an no restoration on the Podoliproetus. This restoration was done to repair missing shell around where the trilobites fractured during collection.

SPECIES
Mrakibina cattoi & Podoliproetus sp.
AGE
Lower Devonian

FORMATION
Tabounaklouf Formation
SIZE
1.4, 1.3 & 1.1" long