Beautifully Prepared 14.5" Mosasaur Jaw Section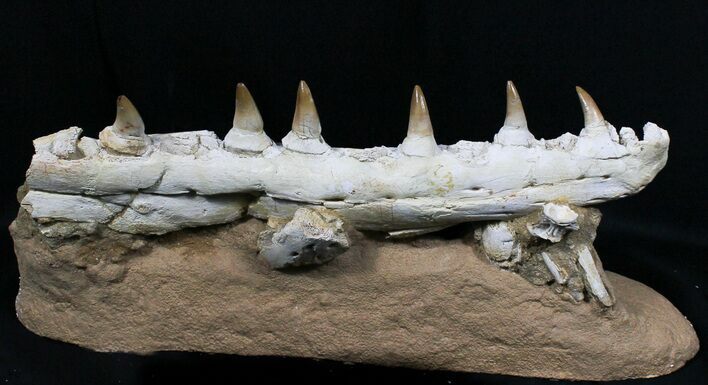 This specimen will ship in a special crate and will require freight shipment. Shipping within the United States is included in the purchase price. International shipping will cost extra and will be billed after purchase. Please contact us if you need a shipping quote.

This an exceptionally well prepared and very displayable, jaw section (yes, a real one) of a Mosasaur (Eremiasaurus heterodontus). The jaw section is 14.5" long, and six 6 original teeth in place, as well as another 5 unerupted, replacement teeth growing inside the jaw which have been exposed by the preparation work. ItIt comes from the Upper Cretaceous, phosphate deposits in the Oulad Abdoun Basin of Morocco. There are many several types of Mosasaurs in these deposits but this one is Eremiasaurus heterodontus (LeBlanc, A.R.H., Caldwell, M.W. and Bardet, N. 2012).

What makes this jaw section so special is there is NO RESTORATION OR COMPOSITING to the jaw and the teeth have not been remounted. The rock was stabilized and an artificial rock base was created allowing the jaw to display very aesthetically on a flat surface.

You will see hundreds of purported Mosasaurus jaws and jaw sections available at rock shops, shows and online, but nearly 100% of them are fakes. They are crudely constructed using plaster or modern animal bones with real Mosasaurus teeth mounted in them. Real Mosasaur jaws with teeth still in place are fairly rare.
SPECIES
Eremiasaurus heterodontus
AGE
Upper Cretaceous

LOCATION
Oulad Abdoun Basin, Morocco
FORMATION
Phosphate Deposits
SIZE
Jaw section 14.5" long