Huge Comura Trilobite With Unique Coloration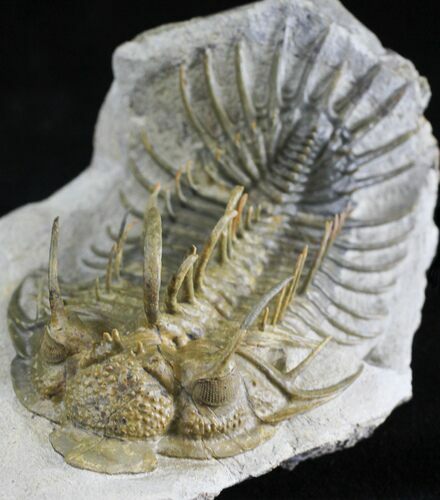 This is a HUGE specimen of Comura bultyncki from the Tazoulait Formation of Morocco. It would be about 4" long if outstretched making it the largest specimen that I've seen. It has a very unique coloration where most specimens tend to be black. It was prepared by the best preparator in Morocco so the quality of the work is impeccable. Just check out the eye detail. There is over 40 free-standing spines on the specimen.

Part of the spine above the right eye is a composite but otherwise the specimen has no restoration.
AGE
Middle Devonian

LOCATION
"Hollardops-couche" Taharajat, S- Oufaten, Morocco
FORMATION
Tazoulait Formation
SIZE
4" long if outstretched