Superbly Prepared Walliserops Trilobite With Diademaproetus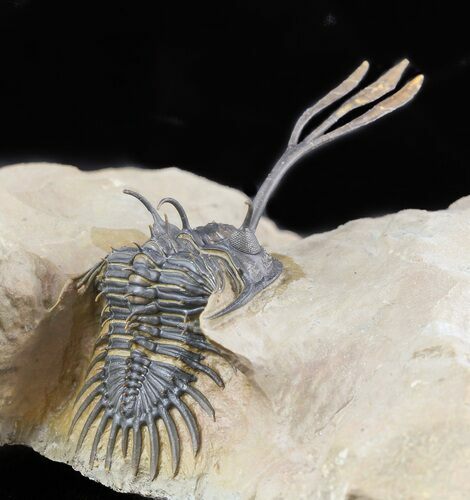 This is an exceptionally well prepared specimen of Walliserops trifurcatus quarried near Foum Zguid, Morocco. The work was done by one of the best preparitors in the world and the shell quality is impeccable. The trilobite is about 3.3" long which is about average size for the species and as a bonus there is a little Diademaproetus naturally associated with it. No restoration.
A photo of the quarry at Foum Zguid. The Walliserops come out of the very bottom layer, which requires 1-2 meters of limestone overburden to be removed.
SPECIES
Walliserops trifurcatus & Diademaproetus
LOCATION
Foum Zguid, Morocco
FORMATION
Timrhanrhart Formation
SIZE
Walliserops 3.3", Diademaproetus .9"