Triple Struveaspis Trilobite - Unusual Phacopid From Jorf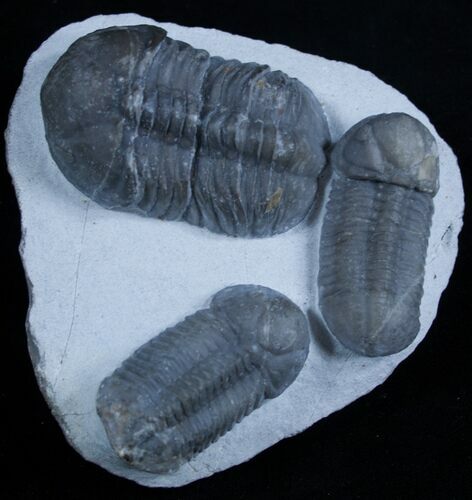 This is a natural triple of an unusual type of Phacopid trilobite from the area of Jorf, Morocco. This smooth shelled, small eyed Phacopid has just begun to appear on the market in the past couple of years. The light colored and almost translucent looking shell is very distinctive of the location that these trilobites are found. You can see the individual lenses characteristic of phacopid eyes in the right eye of this trilobite. This is the first multiple I've seen of the species.

There are a few repaired cracks, a small patch of shell restoration (2-3%) on one trilobite, and another small patch on the head of another (again 2-3% of shell). The larger trilobite has no restoration. Five of the six eyes are in great shape with eye facets clearly visible.
LOCATION
Jorf, Erfoud morocco
FORMATION
Bou Tchrafine Formation
SIZE
All trilobites about 1 3/4"