Awesome Crawfordsville Crinoid Association - 8 Species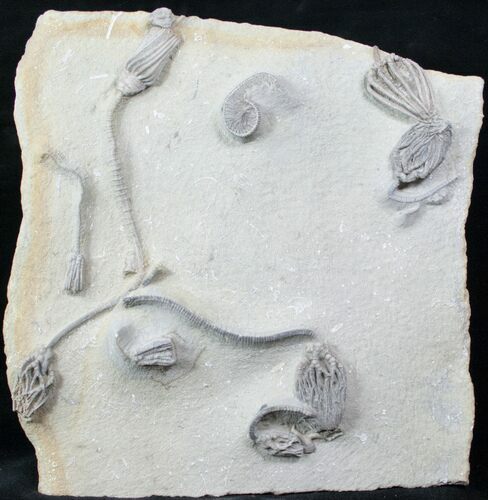 This is a spectacular crinoid association from the world famous Crawfordsville crinoid locality collected by Tom Witherspoon There are 10 crinoids on the plate, representing 8 different species. This is a natural association and none of them were composited onto the plate.

The species on this piece include Gilbertsocrinus dispansus, Sarocrinus varsorensis, Cyathocrinites iowensis, Cyathocrinites harrodi, Cyathocrinites multibrachiatus, Agaricocrinus americannus, Captocrinus myelodactyius and Abrotocrinus manus. Numbers identifying the crinoids is present on the back of the specimen.

The preparation on this piece is spectacular and it represents many dozens of hours of work by one of the best preparators around.
SPECIES
Gilbertsocrinus dispansus & 7 others
LOCATION
Montgomery County, Indiana
FORMATION
Edwardsville Formation