Beautiful Crinoid Association with Root System - Crawfordsville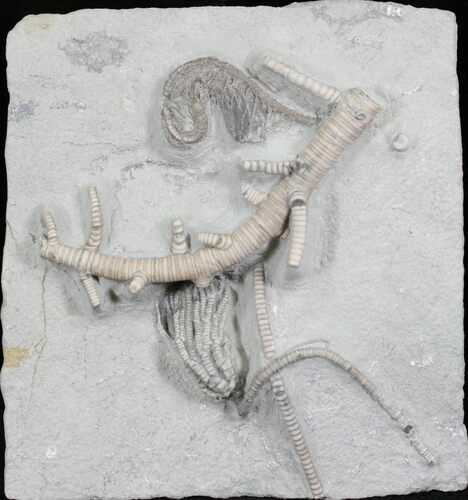 This is a wonderful association of two types of crinoids and a partial root system of another crinoid. The larger crinoid is Hylodecrinus gibsoni and the smaller one is Camptocrinus crawfordsvillensis. In the center of the plate is part of the root system of a much larger crinoid. This interesting piece has been prepared under microscope using air abrasives.
It is believed that crinoids from the Ramp Creek Limestone were buried in sediment from nearby deltas during storms. The resulting siltstone deposits are soft enough that
fossils
can be extracted in exquisite, three-dimensional relief.
SPECIES
Camptocrinus crawfordsvillensis, Hylodecrinus gibsoni
LOCATION
Witherspoon Quarry, Crawfordsville, Indiana
FORMATION
Ramp Creek Limestone