Exquisite Agaricocrinus Crinoid - Crawfordsville, Indiana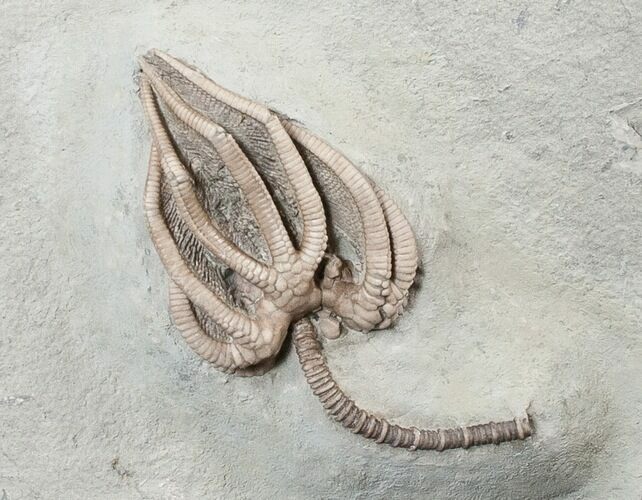 This is a wonderful example of a relatively uncommon species of crinoid from Crawfordsville, Agaricocrinus americanus. The crown on this specimen is 2.1" in length with with a nice little section of stem still attached. The quality of preparation on this fossil is exquisite - using skillful air-abrasion techniques under a stereo microscope.
It is believed that crinoids from the Edwardsville Formation were buried in sediment from nearby deltas during storms. The resulting siltstone deposits are soft enough that
fossils
can be extracted in exquisite, three-dimensional relief.
Note:
This crinoid has been remounted onto a larger piece of matrix for aesthetic purposes.
SPECIES
Agaricocrinus americanus
LOCATION
Witherspoon Quarry, Crawfordsville, Indiana
FORMATION
Edwardsville Formation
SIZE
Crown 2.1" long, 3.6" including stem