Plate Of Pyritized Crinoids (Arthroacantha) - Sylvania, Ohio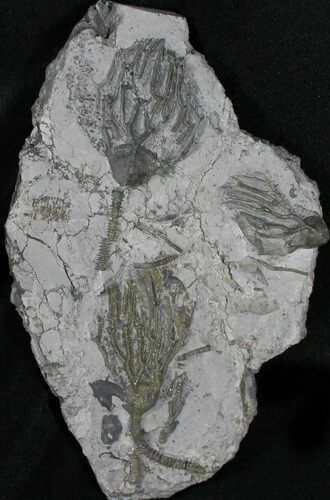 This is a exceptional plate of pyritized crinoids (Arthroacantha carpenteri) from the famous Silica Shale of Sylvania, Ohio which is renown for it's preservation of trilobites. There crinoids were collected some time ago all of the quarries have been off limits to collectors due to liability reasons for many years.

The plate containing the crinoids is 6.8x4.3". There are two complete crowns with a fair amount of stem attached and a third partial crown. Crinoids when stems attached from this locality are unusually, but finding multiple on crinoids with stems on one plate is rare.

Crinoids where animals which were rooted to the floor of the ocean by a stem and had many armored feeding arms which they used to filter the water for food. They first appeared in the Ordovician period and are still alive today.

SPECIES
Arthroacantha carpenteri
AGE
Devonian

FORMATION
Silica Formation
SIZE
Plate 6.8x4.3", Large crinoid 3.1"