Spectacular Macrocrinus & Actinocrinites Association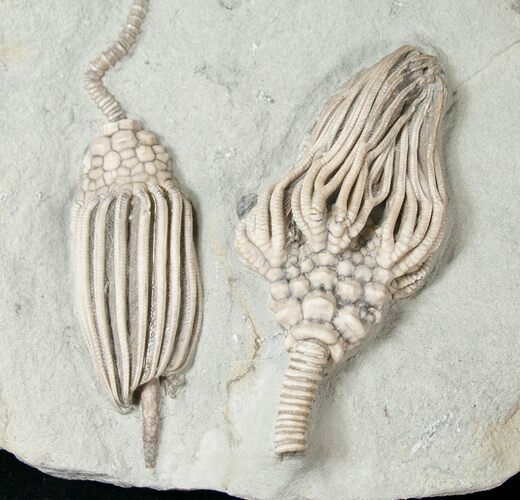 This is a great association of two well preserved crinoids from the famous Witherspoon crinoid quarry near Crawfordsville, Indiana. The longer crinoid is a Macrocrinus mundulus which also has the anal tube preserved. The shorter (but wider) crinoid is an uncommon Actinocrinites gibsoni. Both of these crinoids display well on a 4.7" square piece of limestone. The quality of preparation on this fossil is exquisite - using skillful air-abrasion techniques under a stereo microscope.
It is believed that crinoids from the Edwardsville Formation were buried in sediment from nearby deltas during storms. The resulting siltstone deposits are soft enough that
fossils
can be extracted in exquisite, three-dimensional relief.
Note:
The short piece of stem on the Actinocrinites has been remounted and maybe a composite.
SPECIES
Actinocrinites gibsoni & Macrocrinus mundulus
LOCATION
Witherspoon Quarry, Crawfordsville, Indiana
FORMATION
Edwardsville Formation
SIZE
Actinocrinites 2.9", Macrocrinus 3.9"